Weddings are love and what is noticeably more lovable is capturing these beautiful brides in the most unique ways possible. Brides are the pumping heart to the body of any wedding. Everybody just waits on how the bride of the day would look in her wedding gown/lehenga. It is so obvious that your potential photographer captures you in his/her lens properly in every kind of shots you have wish listed while browsing through some pages or from one of your friends' album. Here are few enlisted shots that you don't want to miss out from: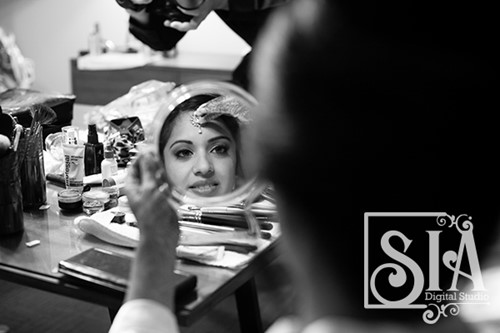 That Glam Up Shot
Tell me, who doesn't like getting clicked while putting all that makeup when the occasion is a wedding and that too your own day. Every bride looks forward to this day since her early girlish days. Any wedding album is next to incomplete without a getting ready picture of the bride. Brides are so astonishing when captured while they are getting ready for their w-day.
It tells a lot. It expresses a girl becoming a bride and turning into another phase of womanhood. It is such a beautiful and memorable once in a lifetime moment for the girl, that it is intended to be captured. It is a part of a wedding story in whole and thus important to not miss out from.
It can be anything like a bride using brushes to add more blushes or her sister helping her to put some jewelry or zipping up the gown by her mother. It is not only an important shot for the bride but also for the closest women in her life too. Never ever miss out this shot if you don't want the sprinkle of your presence to not go in the album.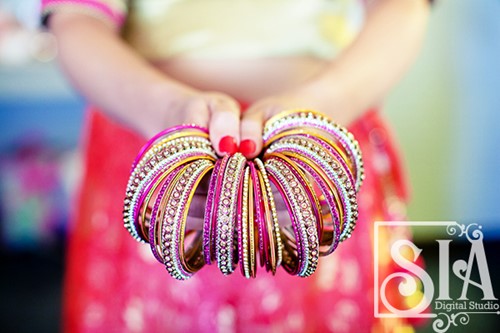 That Detailed Shot
The small details of the wedding are surely admirable, but the small details attached with a bride is more admirable as it speaks about the efforts she has taken to get ready like a princess going to be the queen. A shot of the wedding heels or the small embroidery on your gown or even your hairdo makes the wedding photo collection a lot about you.
That flower bouquet you carry with you down the aisle or the mehndi you had your hands filled with, get them all shot in a beautiful way. It is your day and you should be embraced fully as a bride captured in stills. Those danglers you wore in your ears or the neckpiece you have put makes you elegant. Get them all shot. You don't want your hard-work on the look you have created goes in vain just because you haven't got them captured.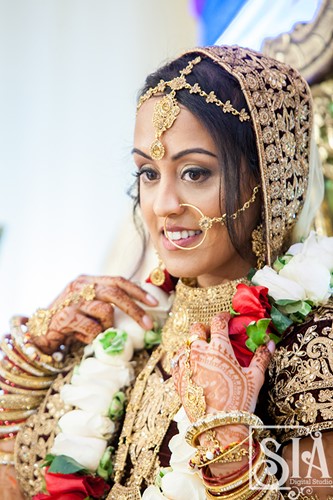 That Dress Of The Day Shot
It is one of the favorite shots among the brides. She and her friends have spent tons of time selecting that perfect piece of art to slay on that day. These kinds of shots have been in trend in these few years only. Hanging the lehenga on some door or putting that gown on a mannequin and shooting it in a unique way, it has caught many eyes.
Another surreal thing about this shot it the metaphor. The dress or the whole bridal outfit symbolizes the women in making in the process of the wedding. It has been a contemporary artistic adaptation of shooting of bridal outfits turning into a thing the wedding photo shoots too. With this kind of shot, you will never need to remember how beautiful dress it was as will surely be there with you in your album.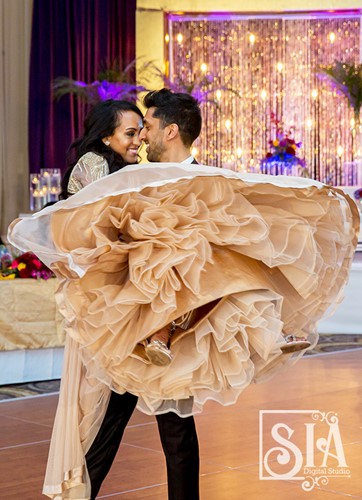 That Swirling Bride Shot
One still in kind of motion will add a beautiful sense of progress. The swirling bride swaying in her gown is such a melodious view to imagine. Like, come on, every bride would like to take a turn in her lehenga or gown to fully swish with her outfit. The shot in this motion is mesmerizing because what you will see with this is a happy and fun thrilled face on the bride that comes naturally.
This shot is for all those brides who have a little edgy side that they can never leave behind. What goes beyond this shot is its admiration for the dress of the day. It is like the bride is throwing all her fun in the dress to do the magic.
That Ganged Up Shot
Your bridesmaids will not leave you if you don't have a group photo with them. Your friends are your lifelines after your family and surely, they have been there for you to choose from the right husband to right gown.
You should surely not miss out this shot. It will add the priority of the relations of your life in the album. Try something funny or candid. Add as much fun as possible. A bride and bridesmaid shoot can be a good idea but hope that doesn't result in a longer shoot than a wedding.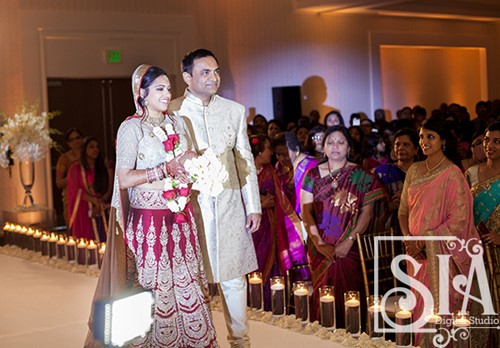 That Walking Down The Aisle Shot
The most awaited moment of the wedding besides the main ceremonies is the first look of the bride when she enters the room or walks down the aisle. You must be sure that you don't want to miss out of any emotion that is expressed at the moment gets missed out. The shyness that you hold while entering is worth capturing. The expression of your groom is also worth capturing when he sees you as a bride for the first time.
These moments can be surely relived again and again in imagination but only if you make sure you take the interest to capture.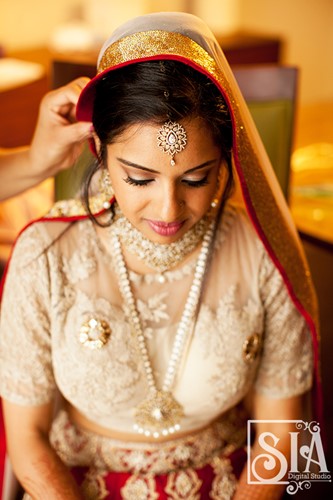 That Bridal Portrait
All the above-mentioned shots were out of the league and candid. This shot that we are talking about is something more of posing and angling. Portraits are those shots that you feel like framing and hanging them in your bedroom when you see the results for the first time.
Make sure your photographer knows good kind of portraiture as in this kind of photography he/she should have a good idea on the angles, lenses and other things too.
Check our blog on portrait photography for more details. 
So, bride to be or any women you be, or your sister is getting or anyone in your family. Pass the beautiful information so that no woman misses out of any of these 7 shots. We don't like seeing women sad.