Mehndi Laga key Rakhna...   
Mehndi is giving a perfect look and a natural beauty to the bride-to-be. Weddings are always starting with it. All the Females gathered a day before for having designs whether it is small, medium or large decore on their palm and have a dance and dine party with it.   
What is Mehndi or Heena?    
The original Sanskrit word of Mehndi is mendhika. It is a small green leafy plant, usually grown in India and middle east continents. The leaves produced an orange-red dye in color known as Lawsone which also known as hennotannic acid who is responsible for relay the feature of color when bound with protein molecules of the upper layer of human skin. The plant is easily available in Gujarat, M.P and Punjab regions.   
It is a powerful herb with its cooling nature. With other ingredients added, like eucalyptus oil, clove oil, and lemon will give the designs dark in color and enhances its herbal effects. Application of natural herbal will give cooling to the body and relaxing the mind of the Bride-to-be from any stress. Henna is applied to both the hands up to the elbow and the feet up to knees as a means of cooling the body, Intercepting the nerves from tensions.   
Mehndi's Ritual    
It is usually kept on a night before the wedding and is often followed by Sangeet party. It is an event for both sides of people [bride & groom] to have lots of fun, along with Bollywood or cultural dancing and having the meals together.   
In the design of the bride's palm, the groom's name initials are elaborated by Heena artist. In some occasions, after the religious traditions, the groom would be asked to search his name's initial's in the bride's Mehndi decorated hands. This is a fun kind of game for the newly wedded couple.   
In Rajasthani weddings, tradition is like grooms are also applying Heena at their palm.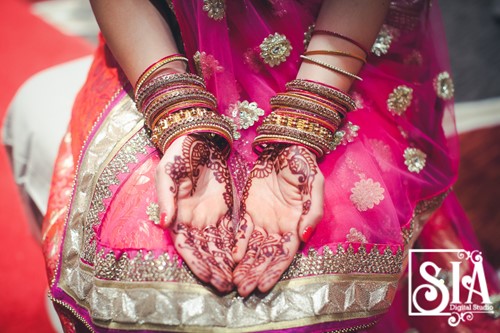 Ultimate design trends  
The traditional décor of Heena has become more and more detailed with the time. It becomes decorative and fancy with ages. Over the centuries there are many types of patterns and designs available, but Arabic and Rajasthani designs are all time favorite. It is now even applied with ornate like crystals, beads, sparkles, jari, jadtars, and even Henna is also becoming colorful day by day with different colors match with bride's wedding dress.   
The designs have variations from symbols of geometry shapes to delicate lace patterns or swirling paisley or boho or Mandala designs. At weddings, whether it's Hindu, Muslims, Sikh or any culture or of any region, it is the most important element of the wedding.     
Known Beliefs  
It is saying that Heena is a symbol of bonding between the Dulha and Dulhan. Popular belief is, it gives luck, good blessings and gives a wonderful beauty to the bride. When placed on the palms it is meant by that the bride is ready to receive blessings for her married life. It is a common belief that the darker the color of Heena of the bride, more love she will get from her husband.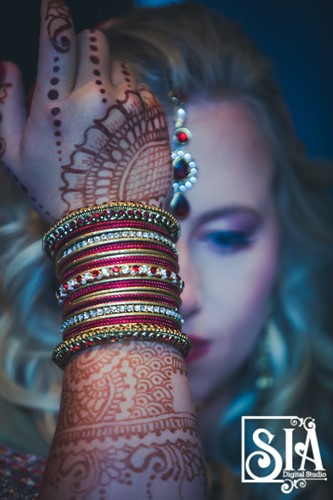 Photoshoot   
Nowadays, Brides are having a special photo shoot for their Mehndi to make it more special and memorable.   
There are lots of dresses, props, and themes available for the photoshoot.